Google Sheets and Shopify - a new era in e-commerce
Google Sheets, along with offline applications like Excel, Numbers, or OpenOffice, are typical tools for working with digital data arrays and are the most convenient tools for various types of quick analytics and operational work. In addition, Google Sheets allows for the integration of various add-ons, which, in turn, significantly expands its functionality.
On the other hand, Shopify is the number one platform for e-commerce, and it is for this reason that the synergy of these two tools can open up new horizons for e-commerce business owners.
The Shopify Google Sheets integration opens up new horizons in efficient online store management.
Why the Integration of Shopify with Google Sheets Is Important
Currently, the majority of built-in Shopify reports are exported to CSV files and then imported into Google Sheets for further visualization and analysis. While this approach is used by most store owners, it has several significant drawbacks:
Tedious Data Retrieval Process in Google Sheets: Getting data from Shopify into Google Sheets involves several steps, including opening a report, exporting it in CSV format, importing it into Google Sheets, and formatting adjustments.
Manual Data Updates Requirement: Data imported manually doesn't update automatically. Store owners need to periodically update data manually, which can be a time-consuming task and result in delays in accessing current information.
Inability to Display Real-Time Data: The primary drawback is that this method doesn't allow tracking data in real-time. You can only view static reports that do not reflect the latest changes in your store.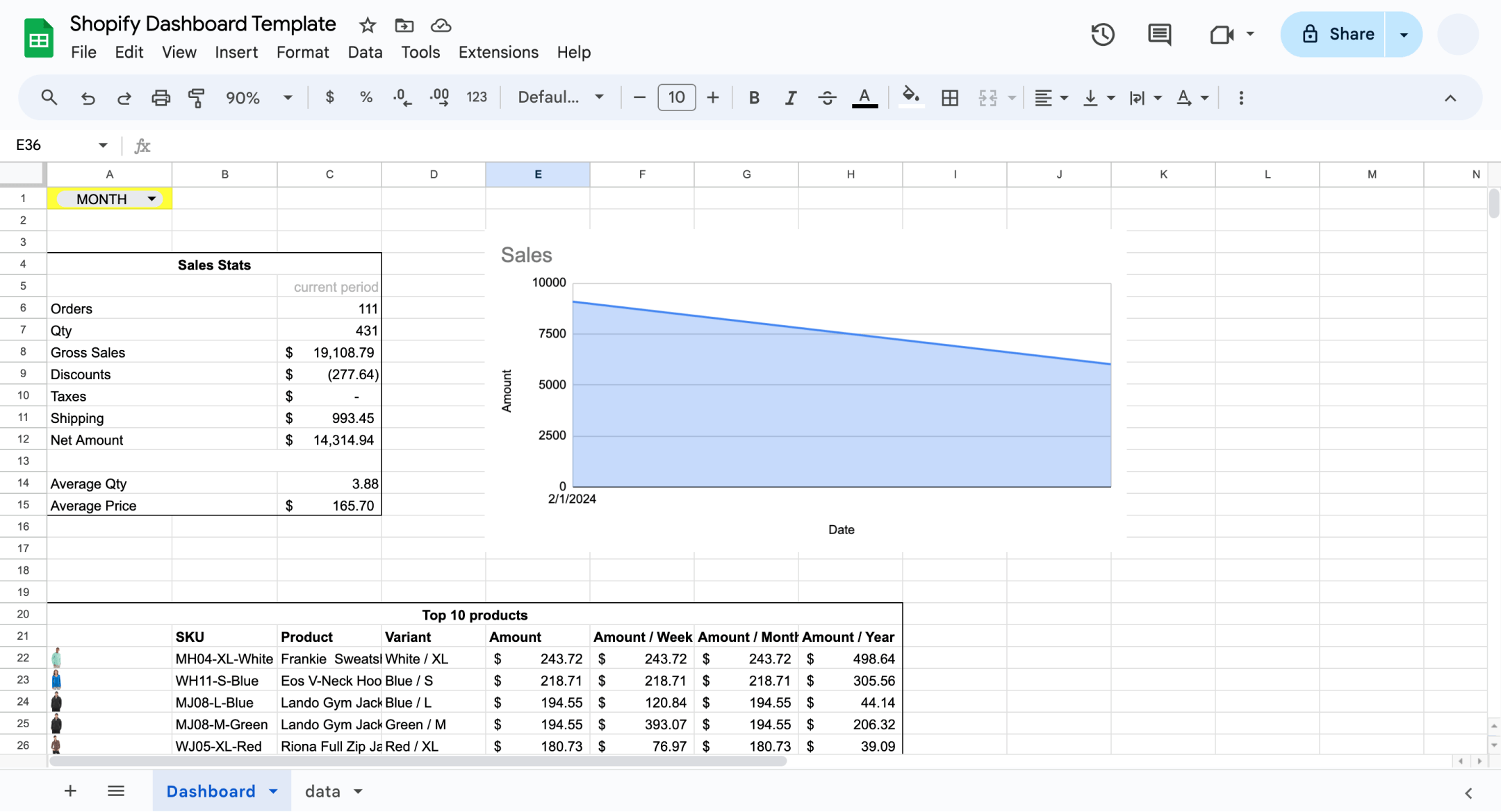 Furthermore, a common and critical issue is the absence of necessary data or calculations in built-in Shopify reports. Store owners are seeking more flexibility and analytical capabilities for data analysis and report generation, which are often not provided by standard Shopify tools.
To overcome these limitations, the integration of your Shopify store with Google Sheets using the Mipler app becomes a crucial step forward in streamlining and enhancing e-commerce management processes.
What Tasks Can You Solve in Google Sheets with Data from Shopify
The list of tasks that can be solved largely depends on the individual needs and the creativity of the store owner, but there are typical categories of tasks that can be highlighted:
Operational Tasks:

Order Management: Tracking orders in progress or awaiting fulfillment.
Subscriptions: Monitoring subscriptions and their payments.
Inventory Monitoring: Tracking product quantities in stock and generating orders for restocking.
Expense Management: Determining expenses related to operational activities, including shipping and order processing.

Analytical Tasks:

Sales Metrics: Analyzing sales and other performance indicators.
Profitability Metrics: Calculating profitability by products, categories, brands, etc.
Advertising Campaign Analysis: Measuring the effectiveness of advertising campaigns and budget allocation.

Forecasting:

Inventory Planning: Forecasting and planning inventory levels.
Trends and Seasonality: Monitoring trends for specific items or brands.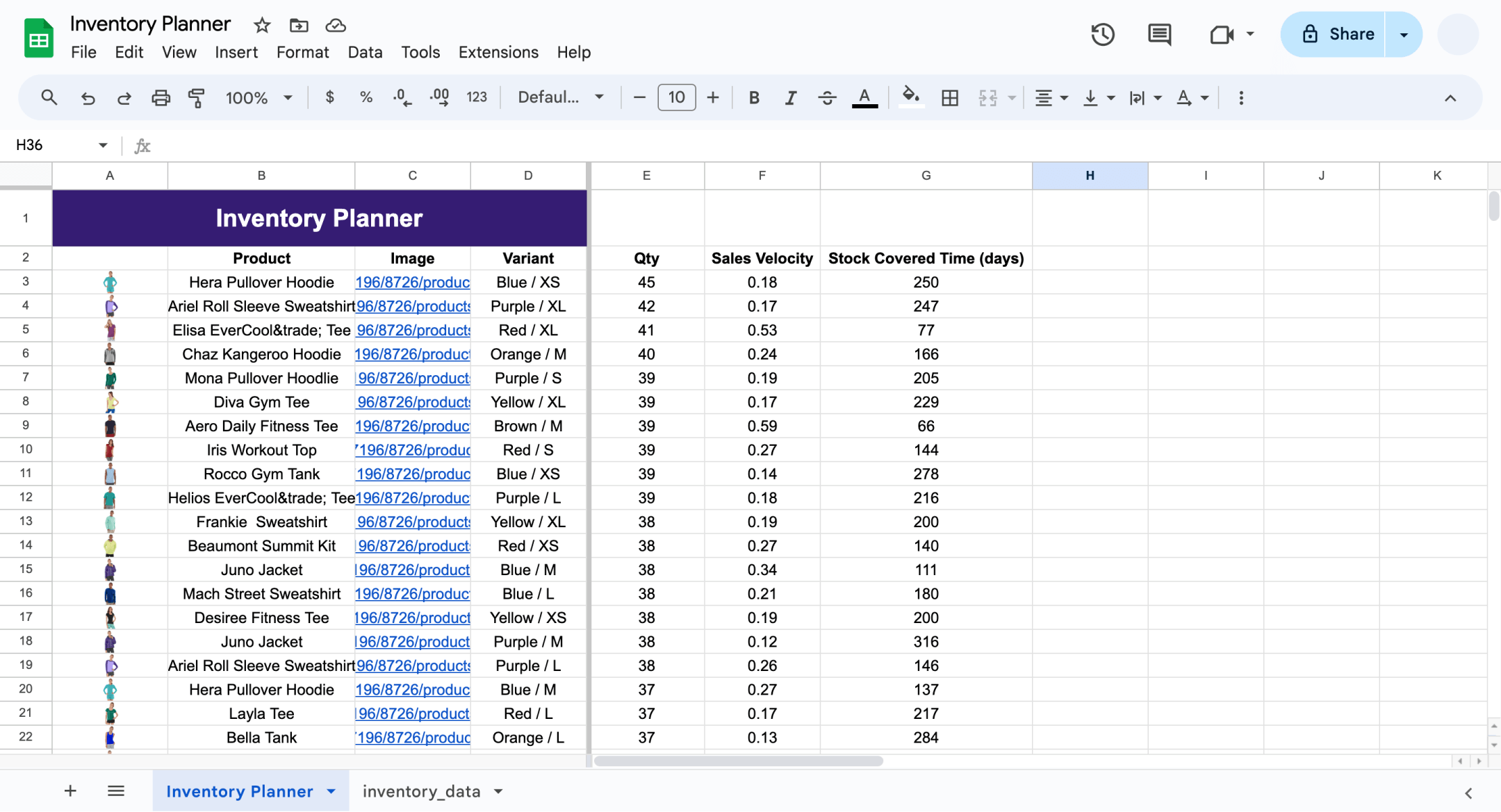 These reports represent just the initial possibilities that open up through the integration of Shopify and Google Sheets. Combining these tools helps store owners improve their business management, reduce risks, and enhance efficiency by providing them with more high-quality information for making informed decisions.
Why Mipler and Why Thousands of Shopify Store Owners Value It
Mipler is a Shopify application that, by working with data from Shopify stores, makes analytics and reporting significantly more accessible and convenient for thousands of store owners. Its incredibly user-friendly interface, coupled with advanced customization options, including the ability to create custom formulas, makes Mipler an integral part of Shopify store owners' businesses.
Reports and analytics are fundamental to successful e-commerce management. Mipler simplifies the data processing process, enabling store owners to quickly generate a variety of reports without requiring deep programming or analytical knowledge. With this application, you can analyze sales, inventory, customers, and other critical metrics. Mipler doesn't just simplify analytics, it also makes it more personalized by allowing users to adjust reports to their unique business requirements. Thus, Mipler helps store owners make more informed decisions, improve productivity, and reach new heights in the e-commerce realm.
Connecting Shopify to Google Sheets
The process of connecting your Shopify store to Google Sheets is quite straightforward and enables you to easily import, automatically update, and analyze your store's data. The entire integration involves several sequential steps:
Install Mipler Advanced Reports App:

Begin by installing the Mipler Advanced Reports app in your Shopify store through the Shopify App Store. The primary purpose of this app is to access your store's data, process it, generate reports, and provide a mechanism for accessing the data in Google Sheets.

Additionally, within this app, you can create custom reports, add your own calculation columns, and use this data in Google Sheets. Notably, the app also allows you to directly receive your reports in popular formats such as XSLX, CSV, PDF, HTML, and more.

Add Google Sheets Add-on Mipler Sheets:

Go to Google Sheets and install the Mipler: Shopify Data add-on from the Google Workspace Marketplace. During installation, the app will automatically link your Mipler account to Google Sheets, allowing these two tools to interact.

The Mipler Sheets Add-on performs two key functions: it interacts with Shopify to retrieve data and implements a new formula that enables you to insert and update data in Google Sheets.

Adding Necessary Data to Google Sheets Using Formulas:

Utilizing formulas from the Mipler Advanced Reports library, you can easily add any data to your spreadsheets. Additionally, you can create new reports, configure filters, and use them in your tables.
This approach provides full automation of data exchange between your Shopify store and Google Sheets, allowing you to efficiently analyze and visualize your information. With the Mipler Advanced Reports app, you can create various reports that facilitate decision-making and store management on Shopify, as well as embed these reports into Google Sheets.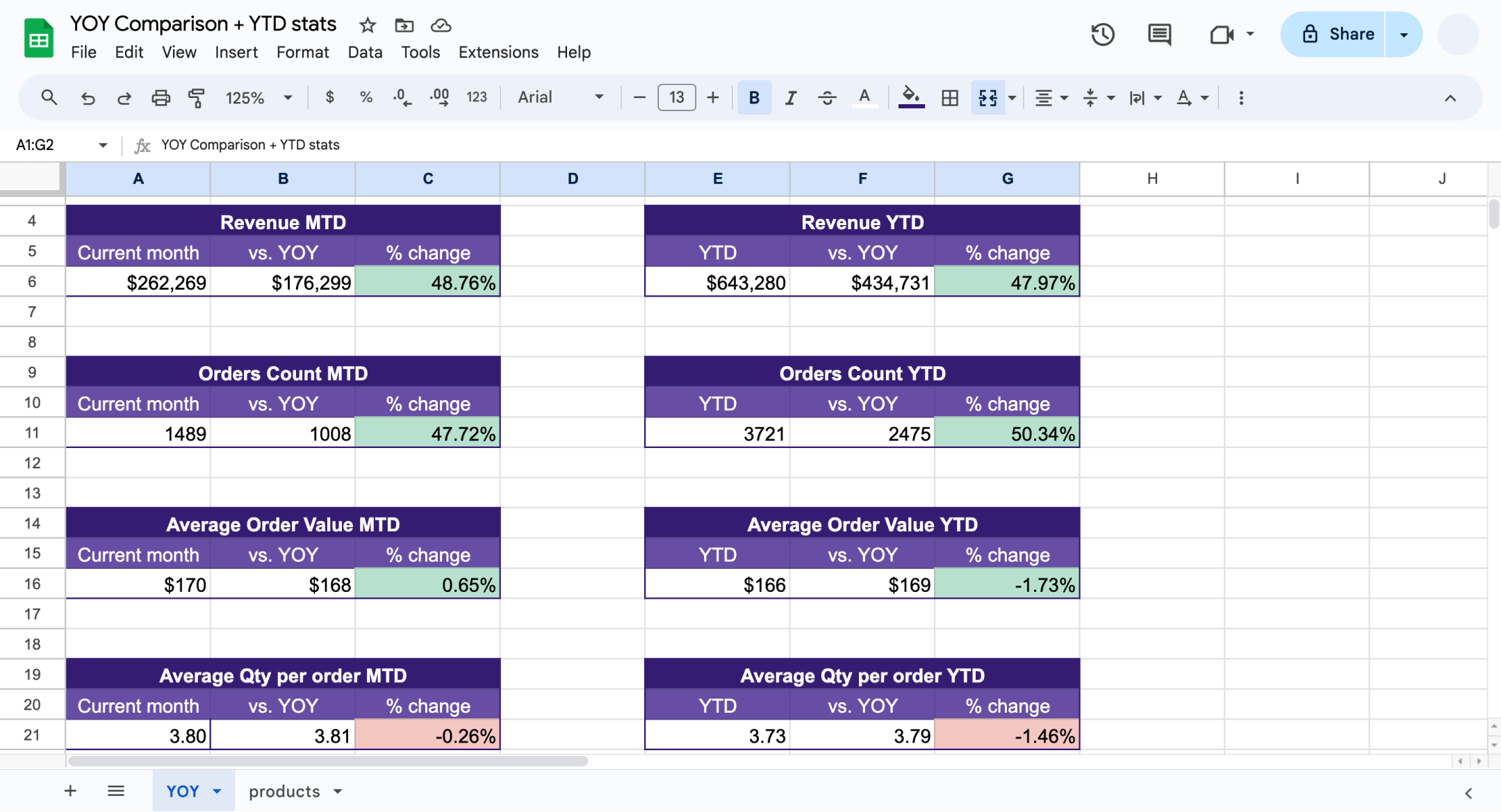 Maximizing Performance with Shopify and Google Sheets Integration
Fast and secure integration of Shopify with Google Sheets opens up numerous opportunities for you to harness the full potential of your store. The flexibility of Google Sheets is phenomenal, and thanks to Mipler, you can automatically add any data from your Shopify store and use it further.
This integration allows you not only to acquire data from your store but also to easily analyze, visualize, and transform it into a format that helps you make informed business decisions. Whether you're involved in managing an online store, optimizing processes, data analysis, or strategic planning, the integration with Google Sheets simplifies and enhances all these tasks, making them more straightforward and productive.
With quick integration, you can focus on developing your business and ensuring its success by utilizing a wealth of data available to you in Google Sheets. Improve your store's efficiency and reach new heights by leveraging all the advantages of the data at your disposal.