To maintain a stable operating ecommerce business, you have to keep track of inventory. Without tools that help you manage and analyze inventory, you're risking losing customers due to out-of-stock issues and wasting money on dead stock storage. These are just a few problems that inventory reports can solve.
If you run a store powered by Shopify, some inventory tracking capabilities are already included, but they don't give you much flexibility. For better Shopify reporting, you can use a tool like Mipler reports that will give you insights into different aspects of inventory management.
Before we dive into the different types of Shopify inventory reports you can create, let's see how exactly you will benefit from them.
The major benefits of inventory reports for Shopify
Regularly created inventory reports help you achieve the following:
Evaluate how well your products are selling.

Inventory data will visualize in numbers how many different products are selling fast and how many are moving slow, risking overburdening you with dead stock expenses.

You can cross-reference this data to your marketing campaigns to understand when they helped certain items be sold more actively. Plus, you can rethink how to promote less popular products and adjust your prices or sales techniques before those items become unsellable.

Restock items on time and improve customer satisfaction.

30% of consumers claim that out-of-stock events hurt their shopping experience, and the same percentage tends to switch stores in case of a stock shortage. With this being one of the biggest ecommerce challenges, inventory movement and low-stock reports will help you overcome it.

Predict future demand.

Your Shopify inventory planner can be improved based on forecasting. If you have enough sales data for analyzing purchasing trends and inventory history, you can predict when to restock specific products.

Optimize inventory expenses.

Unless you're running a dropshipping business, you're paying for acquiring inventory from suppliers, storing it at warehouses, maintaining and repairing it if needed, and sending it out for delivery. Inventory reports will alert you if some products are kept too long without getting sold, calculate your total cost on dead stock, etc.
Types of inventory reports for Shopify
There's no universal answer to how many inventory parameters you should track and what types of reports you need to prioritize. But some reports will be helpful regardless of your business objectives and other nuances.
Inventory on-hand
An inventory on-hand report will show you how many items you have available. More specifically, it can include parameters such as:
Current stock levels of products and product variants. (in overall or by location)
Current levels of goods allocated for packaging and delivery.
Inventory turnover. This metric shows how many times each item was sold and restocked within a given time period.
Replenishment quantity. Based on what you have on hand and its inventory history, you can set (or let a reporting tool do that automatically) how many of each item you'll need to restock by a certain date.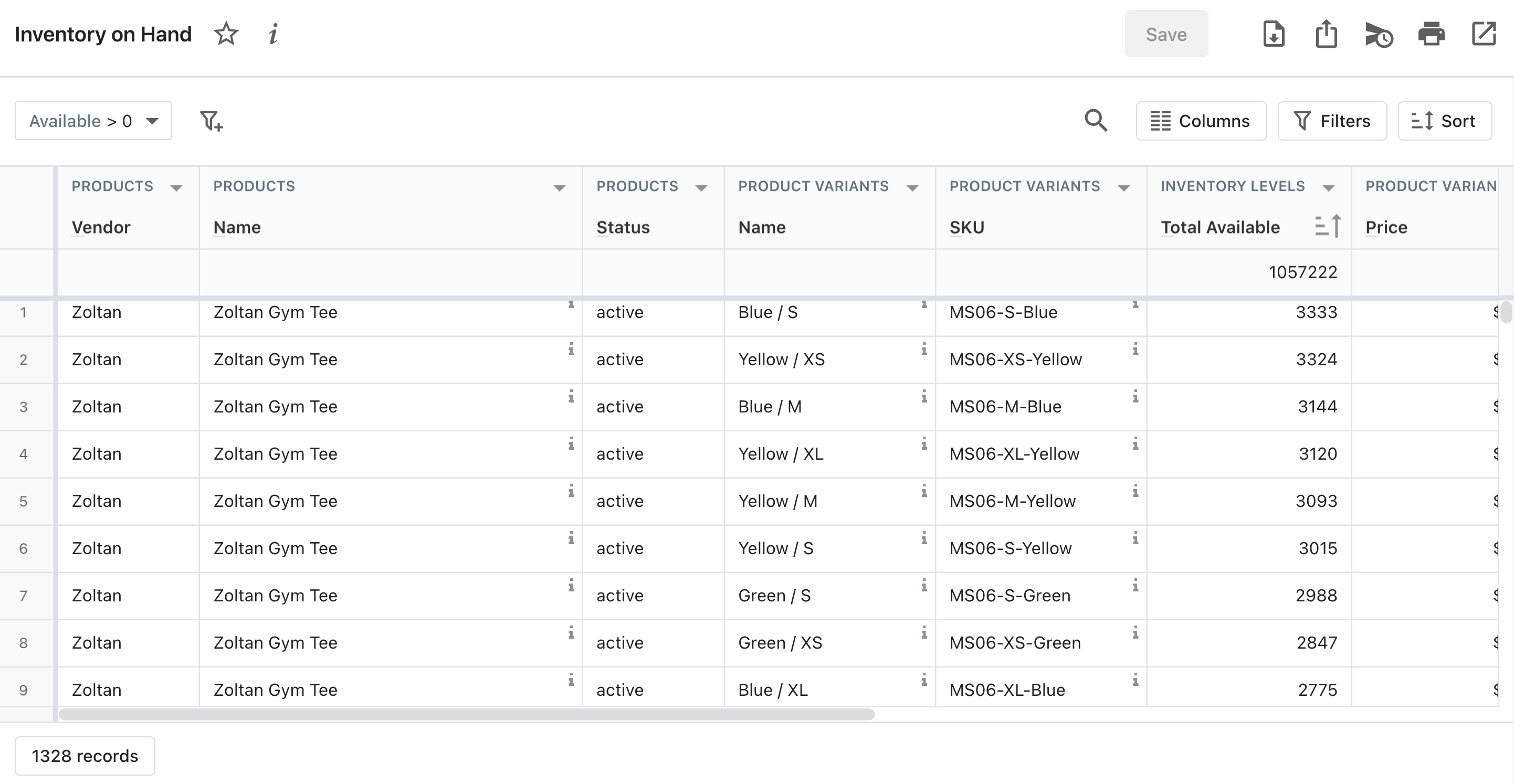 Use case: Say you're planning to launch an occasion-related promotion, and you expect a spike in demand for certain items. Going through an on-hand stock report will help you assess if you need to order more of the promoted products. On the contrary, the report can help you spot that you have a lot of certain items left, and you can think of new ways to promote them.
Inventory history
Shopify inventory history reports show you stock data within a certain time range. The metrics included in historical data might be the following:
Opening and closing stock: quantity available at the beginning and the end of the chosen period.
Valuation of stock. It includes the cost value (your expenses on acquiring and storing inventory) and the retail value (the price you set for selling).
Stock movement: quantity in and out in a given time period.
Use case: You can view inventory data by week, month, or another period and cross-reference it with your marketing and advertising campaigns. This will help you see what impact your promotion efforts have on stock turnover and cost.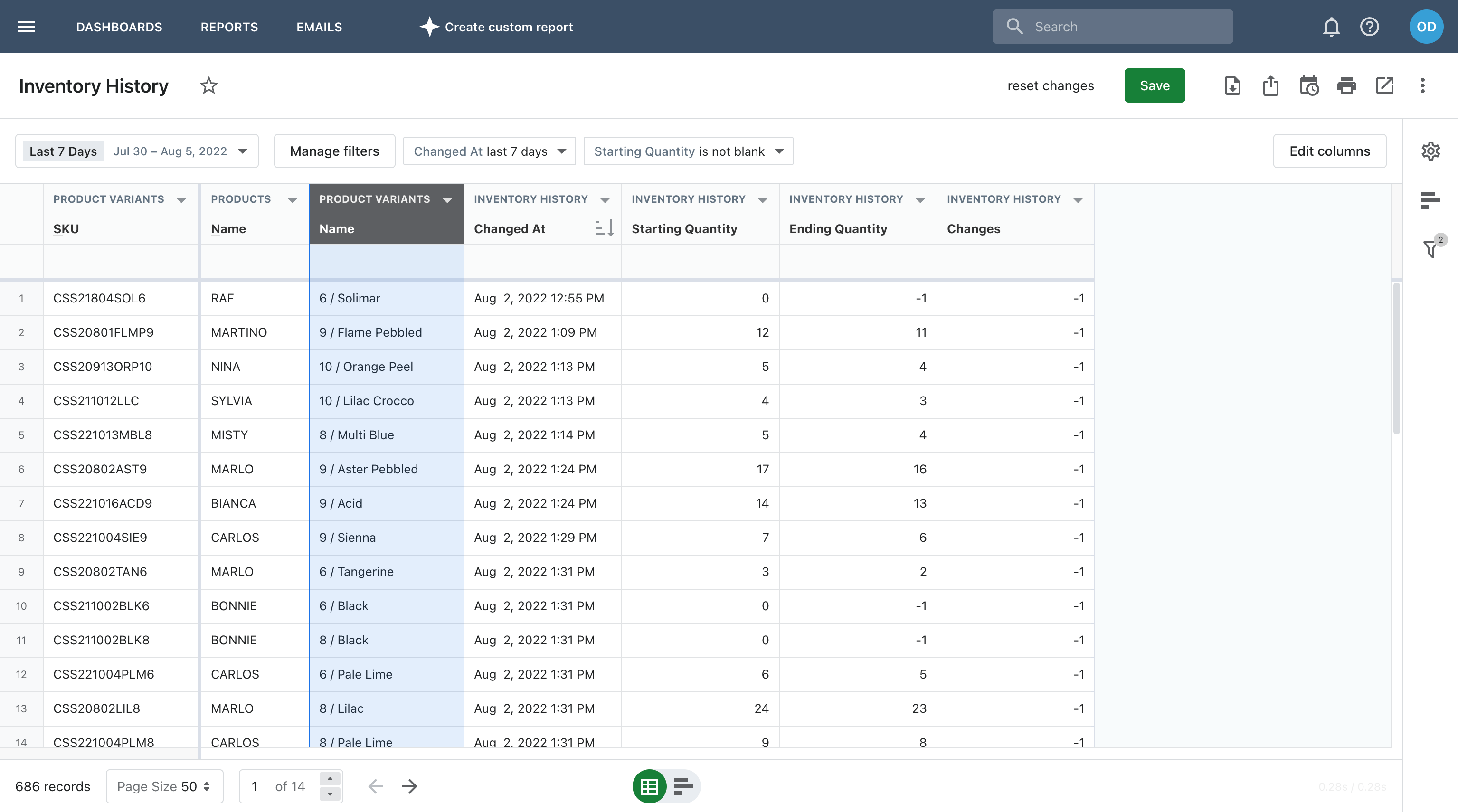 Inventory by location
If you have warehouses across different locations, it's critical to track them separately and adjust inventory levels based on location-driven demand. For instance, you might want to distribute your inventory closer to existing and potential customers as fast deliveries are not only appreciated by consumers but are often a deciding factor.
Location-specific inventory reports will help you understand how many products are kept at different warehouses, as well as what products are moving fast and slow depending on location. This, in turn, will help you avoid stockouts and improve your replenishment plans.
Use case: If you see that one location has a significantly higher inventory turnover than the other, it might signal you to focus on better-performing locations and plan logistics in a way that it gets closer to customers.
Inventory value
An inventory value report will identify the best- and worst-selling products, their cost and retail value. It can also highlight SKU profitability dynamics based on margin rate, inventory turnover ratio, and other parameters.
Such reports can be cross-referenced with ABC analysis or location data to measure inventory value by location or with regard to ABC groups.
Use case: You'll need this report to assess the overall business operation and prepare financial statements at the end of a given period. When you know how much it costs for you to store and maintain your stock and how much you can earn on it, you can understand which products are the most beneficial and which ones you should stop selling.
Inventory forecasting and planning
The goal of such reports is to predict customer demands based on existing purchasing trends, your inventory history, and sales dynamics. Other factors like seasonality might also be included in the forecast.
Live example of Inventory Forecasting report for Shopify
Armed with a Shopify inventory planner with forecasting, you can:
Minimize stockouts. This will not only bring you more happy customers but will also help you improve your replenishment plan and logistics.
Re-evaluate your approach to poorly selling products. When forecasting data identifies what products are not going to sell fast, you can pay extra attention to them and consider adding a discount, modifying the price, or changing the promotion channel.
Avoid overstock. Having too many items sitting in a warehouse is just as bad as not having enough to satisfy the demand. Accurate forecasting will help you order the amount of stock that fits customer behavior and doesn't leave you with additional storage expenses.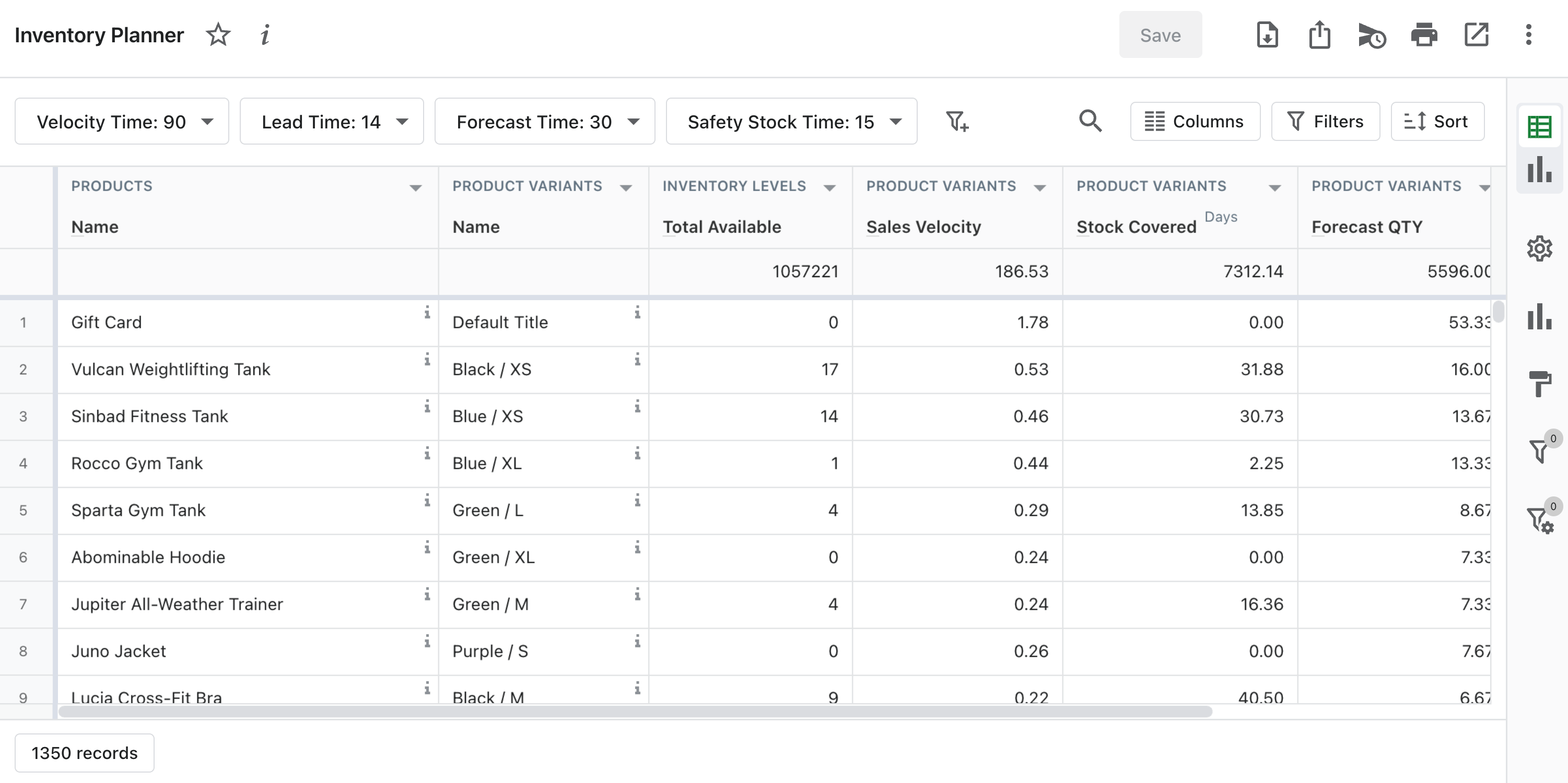 Use case: In case of a major sales event like Black Friday, a forecasting report will give you product popularity estimates to keep up with the shopping trends but not end up with excessive dead inventory.
Low-stock products
Having a separate report on items that are low in stock allows you to take action in time. Even if your Shopify inventory planner has accurate forecasting, there still might be unpredictable sales spikes.
Based on what you set as a minimum stock level for each product or product variant, the low-stock report will show you items that fall below that level. This information will help you restock on time and adjust your plans in general.
Use case: Say you're selling products that people use regularly. If you don't react to low-stock levels, you might lose your loyal customers who are looking for the same product every month or a couple of months.
Dead inventory
Dead stock reports show you those items that haven't been sold in a given time period. The metrics you will see usually include the following:
The date when the item was last sold (if it was sold at least once).
The date when the item was last ordered from a supplier.
Unit cost. It includes all the expenses related to item acquisition or production and its storing.
Total cost. This number will calculate how much money you're wasting on the total dead stock based on each unit cost and quantity on hand.
Use case: Based on how much dead stock costs you, you can decide how to put it to better use: for instance, offer more expensive products as a free gift with an order and bundle less expensive ones with fast-selling goods.
ABC analysis
ABC analysis is meant to give you an understanding of how different products contribute to your revenue. Based on profitability, your stock is divided into A, B, and C groups, where A is responsible for 70% of your sales, B for 25%, and C for 5%.
Real Case
Number of products in each ABC group vs revenue per group: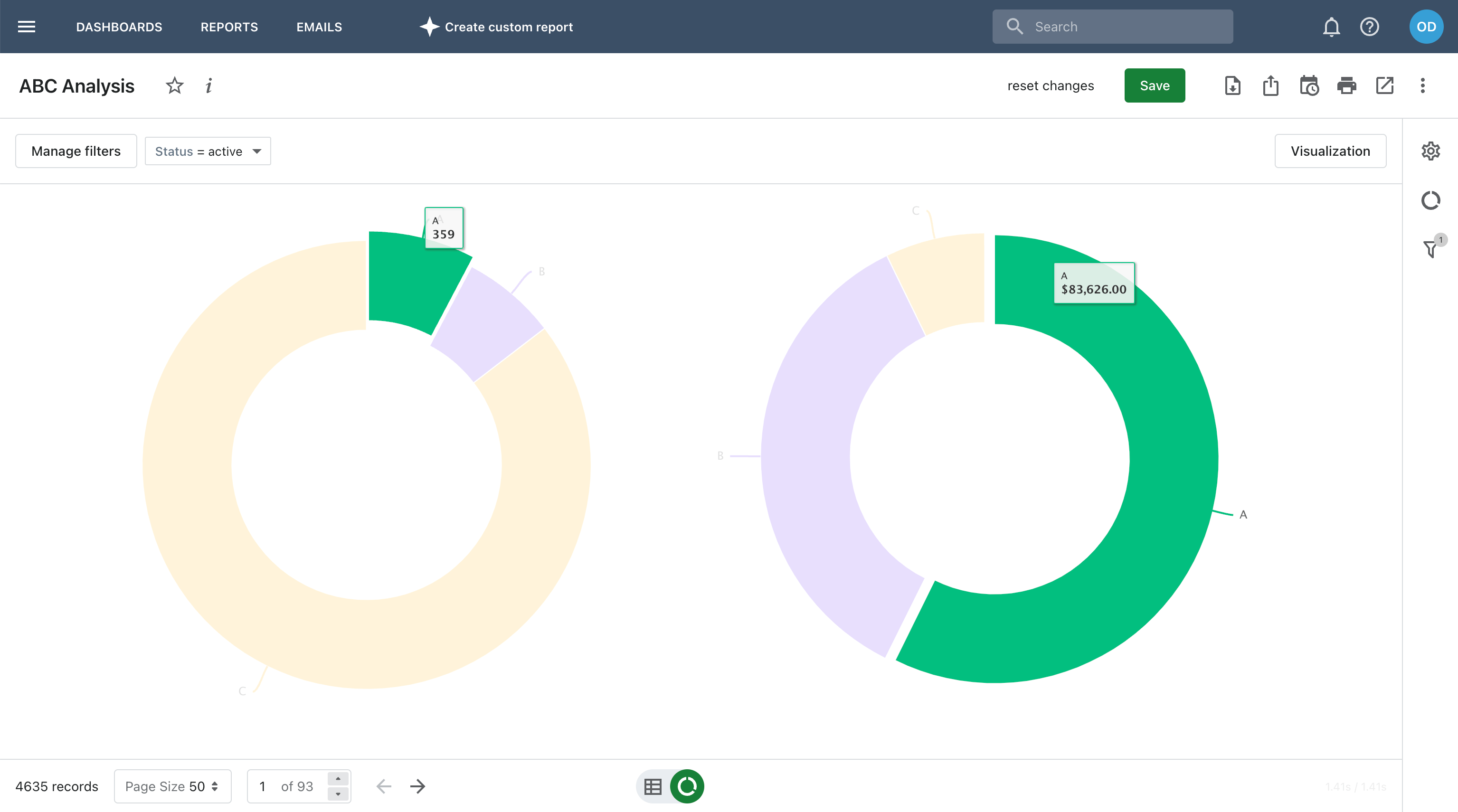 Group A: 10% of products (359 items) - generates 70% of revenue ($83,626.00)
Group B: 12% of products (391 items) - generates 25% of revenue
Group C: 78% of products (4231 items) - generates 5% of revenue
It's generally recommended to treat these product groups differently, both in marketing and inventory management strategies. With an ABC-based report, you can easily visualize what products are the most valuable to you and how many of them are in stock, have to be restocked soon, etc.
Use case: Knowing what products are in your A group, you can try negotiating better terms with suppliers to make the sales margin even higher. Or, if you see that your C group contains some items that are unreasonably expensive to order and store, you might want to change the suppliers or abandon those items.
Integration with Google Sheets
Additionally, you can use our Shopify vs. Google Sheets integration to automatically export products (variants) with available stock quantity, velocity or any other columns to Google Sheets in near real-time.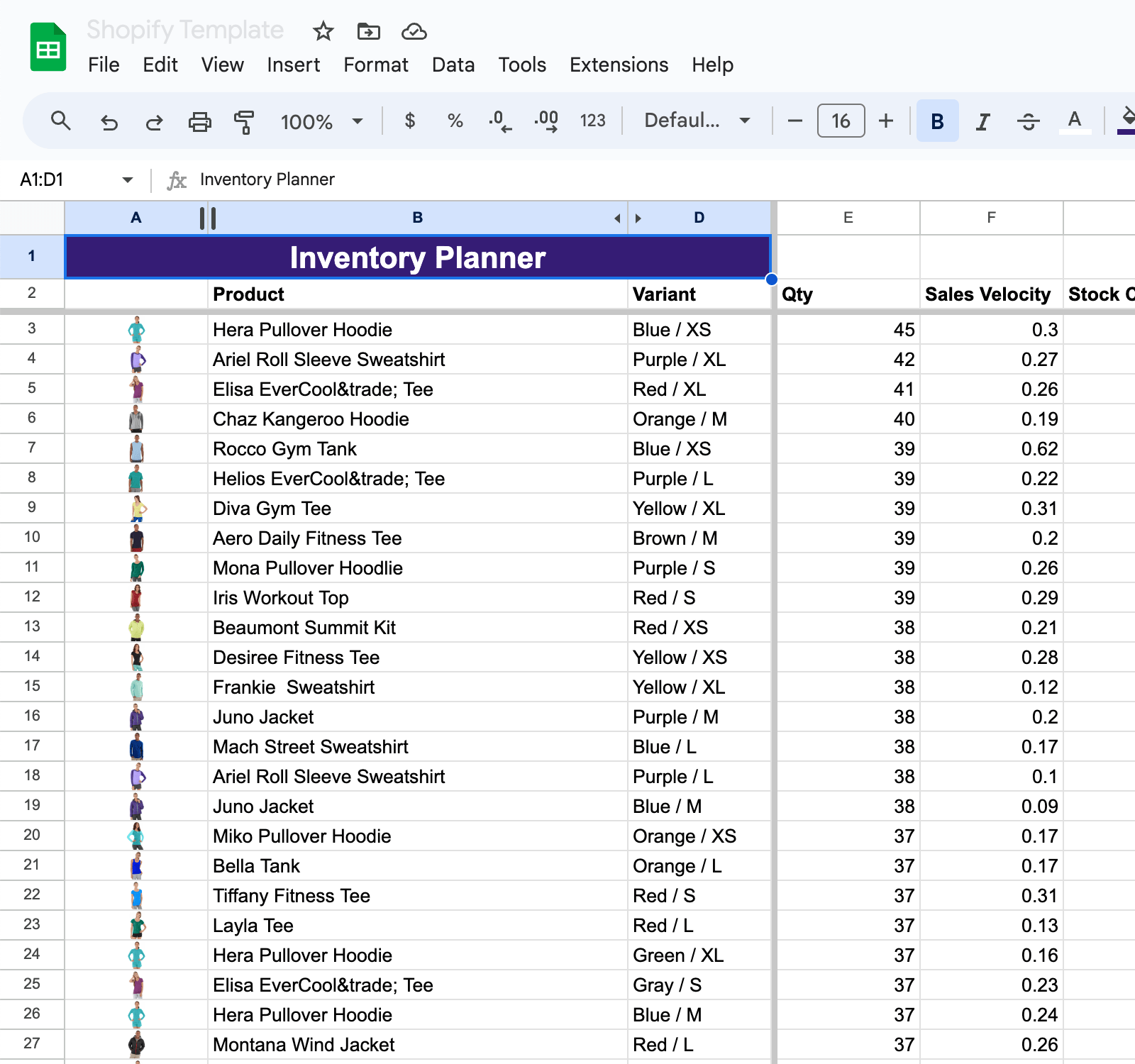 Automate your Shopify inventory reports
With the help of Shopify inventory apps or other solutions, you can set the metrics you want to track and get regular reports automatically generated for you. You can analyze yearly and monthly inventory reports, as well as get daily snapshots for detailed assessment.
The Mipler reporting app provides you with plenty of customization opportunities so that you can adjust what types of inventory reports you need and what parameters to include in each one.