What this report gives you
Using the inventory on hand report, you can monitor and adjust the current stock levels in your store depending on multiple circumstances. The inventory data allows checking the actual stock and adjusting its reserves correspondingly to sales demands. Use it to ascertain the absolute stock value, determine items that should be reordered in close time, oversee items with overstocking.
What questions the inventory data summary can answer
This type of summary is the starting point in controlling the stock of a store. It shows a list of all product variants with their inventory levels.
This inventory data can be used to answer such questions:
What product variants are in stock?
How quickly is the inventory used (product sales velocity)?
How to minimize chances for the out-of-stock situation?
How to improve stock replenishment?
How to calculate the turnover ratio for stock?
The list of answers you may get with the stock data analysis can be extended by using additional data columns and data filters.
Track inventory level
Advanced Reports app can display the data on the product stock in your shop.
Inventory report output includes such columns as:
Sales Velocity last 30 days
Total Available
Forecast QTY 21 days
Replenishment QTY 21 days
Use these columns to track the currently available stock quantity and get the sales speed for each product. The forecasted quantity displays how many products should be replenished in 21 days from the date the report was generated.
Similar inventory reports
Inventory on hands is one of the most frequently used reports to understand stock reserves. In conjunction with it, a store manager can often use reports such as:
Dead Inventory - Get the data on products with zero sales in the last month. Use it to estimate the sum of financial funds frozen in the inventory.
Inventory by Location - Track the number of stock in each of your warehouses.
Inventory Planner - Use it to get forecasts of product replenishment to avoid being out of stock.
Sell-through rate - Estimates the percentage of total inventory sold over a specific time period.
Days of inventory remaining - Estimates when the inventory will be depleted, based on sales rates.
ABC analysis - Evaluates the product's revenue for the last 28 days and assigns it an A, B, C grade.
Percent of inventory sold - Shows product sales in relation to the inventory amount at the first day of the selected period.
Average inventory sold per day - Shows the quantity sold in a certain period of time, divided by the number of days in that period.
Month-end inventory snapshot - Displays available stock for the end of the month.
Key Columns for Inventory
Typically inventory by products table consists of columns such as:
Products Vendor
Products Name
Product Variants Name
Product Variants SKU
Inventory Levels Total Available
Product Variants Price
Inventory Items Cost
Inventory Items Total Cost
Inventory Items Total Price
Locations Names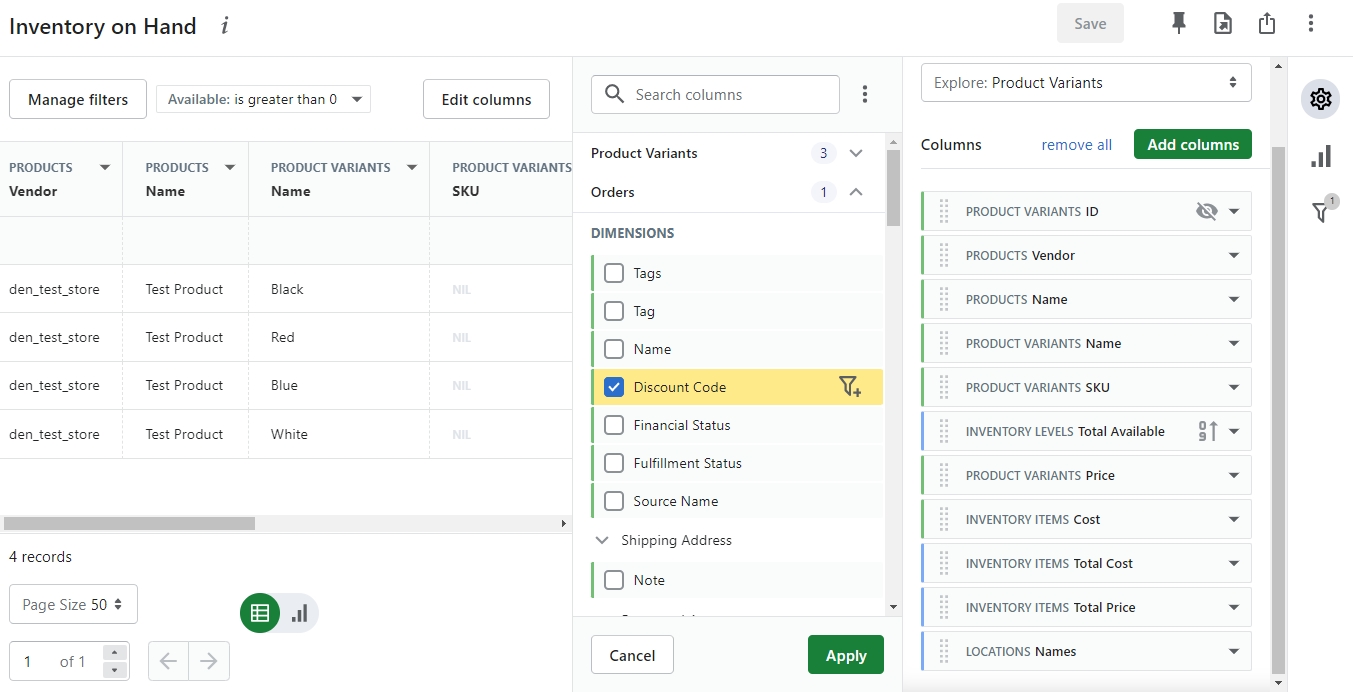 You are totally free to exclude any of the existing columns from the report or add new ones. Simply choose the available columns from the list.
Here is how some of the key columns are calculated in the default report:
Inventory Items Total Cost - It is calculated through a product cost and by the total quantity

Inventory Items Total Cost  = Inventory Levels Total Available × Inventory Items Cost

Inventory Items Total Price - Determined by a product price and the total in-stock quantity

Inventory Items Total Price = Product Variants Price × Inventory Levels Total Available
Here is how some additional key columns that you may use are calculated:
Sales Velocity last 30 days - The number of sold items for the period.

Sales Velocity = Sold Quantity ÷ 30

Forecast QTY 21 days

Forecast QTY = Sales Velocity × 21

Inventory Planner Replenishment QTY 21 days - This optional data column is calculated using the product quantity and available stock quantities. The value is rounded to the nearest integer. The output is displayed when a calculation result is a positive number. Otherwise, zero is displayed as a result.

Replenishment QTY = Inventory QTY × 21 – Inventory QTY Available
Here is how some columns are calculated in default Shopify inventory reports:
The Sell-through rate is displayed in percentages. The formula for this value includes the total sold quantity and the total quantity in inventory.

Sell-through rate = Total Sold QTY ÷ Inventory Total QTY × 100

Days of inventory remaining uses total quantity available in inventory and average sales of product per day.

Days of inventory remaining = Inventory QTY ÷ Sold QTY per day
Variations of the inventory report
Using filters and sorting options, you can get answers to a number of specific questions regarding inventory. Here are some examples of the report variations.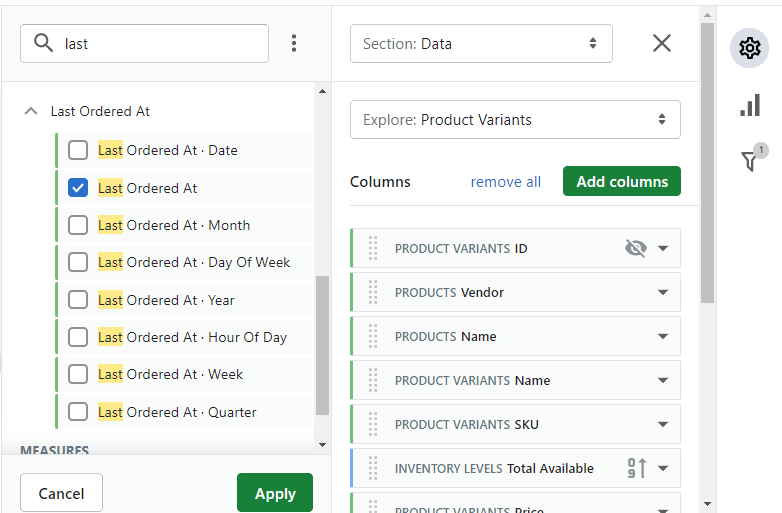 How to see the day of the last sale for a product
You can easily know when a particular product was last sold and how much time has passed since it was first purchased.
The last and first product purchase dates can be viewed in varying degrees of detail. You can select to view this information as a specific date, day of the week, an hour of the day, week, month, quarter, year. These options can be used for both the product's first order date and its last purchase.
How to see what products are low on stock
The inventory report can display the information on available stock. Simply add the Inventory Levels Total Available data column.
Sort the data table by the inventory quantity to see the products with the lowest stock number. In this way, you can quickly track items that may soon need replenishing. Filter by stock quantity and get the products that fall within a specific range.
Extending the inventory report
The inventory report can be extended with data columns defaulting to other reports. Here are some typical uses.
Cost of Goods Sold (COGS)
The term "Cost of goods sold (COGS)" stands for the direct cost of making sales. It includes expenses required to make the sale, for example, personnel salaries. Use the Orders COGS to get this data column.
How to make ABC analysis
The so-called ABC report gives you a different perspective on the inventory by dividing all products into three grades:
A-product - generates 80% of revenue
B-product - generates 15% of revenue
C-product - generates 5% of revenue
It makes more sense from a financial standpoint to concentrate on A-products in order to get the most profit. Filter by the Total Gross Profit data column to see what products fall into A, B, C range for your store.